What is a digital twin?
When we talk about digital twins, we are mainly referring to a virtual representation of a physical system, where a copy (twin) of the real environment is reproduced using the information (Big Data) that affects that system, allowing to have a digital twin that behaves the same way in a virtual environment.
Although it has an infinite number of applications, the main uses where it provides a high value to companies are, fundamentally:
Simulation: Which allows emulating the behavior of a system under different conditions and improving the performance, safety or costs of a project, among others.
Prediction: The future behavior of a situation, given a very high number of variables, makes it easier for organizations to prevent problems, improve productivity or have action plans prepared for upcoming events.
Optimization: When a system is already working and what the company is looking for is to optimize time, costs, productivity or customer satisfaction, a digital twin is a perfect environment to enhance key points of the system.
At Damavis we have extensive experience in the implementation of Artificial Intelligence models that, once connected in a Digital Twin environment, allow companies, on the one hand, to work focused on Optimization, Simulation or Prediction according to their needs and, on the other hand, provide them with systems that have much more information for decision making.
Digital Twin: Use cases
Digital twins can have multiple use cases in different sectors or types of companies, let's see some examples where they provide high value in different areas.
Transport: Companies that have in their day to day transport challenges (either of people or goods), are continuously facing a lot of variables that condition the efficiency of its objective. Traffic density, fuel costs, delivery times, available human resources, active vehicles, breakdowns and revisions… A digital twin in this case allows to simulate the current scenario of a company and predict workloads, dimension personnel and resources, reduce costs or CO2 emissions, for example.
Healthcare: The different patient care centers require planning and sizing appropriate for each type of service, where time management and waiting time reduction are of vital importance to provide good care. In this scenario, a Digital Twin can correctly contemplate queue management, waiting times, manage priorities and help in the planning of resources and necessary personnel.
Energy: Systems that have their own energy infrastructure or combine it with external suppliers need to ensure energy continuity, maintaining service reliability while seeking the energy efficiency break-even point. A Digital Twin allows in this area to predict breakdowns, control system aging, preventive maintenance and cost savings.
Hospitality: The world of hotel management relies on multiple variables of different types that the management has to follow precisely in order to make the best decisions. In order to offer the customer a good service, multiple conditions must be met: the sale of reservations, good occupancy, adequate infrastructure, qualified personnel… A Digital Twin in the hotel sector can focus on one or more of these points, making it possible to predict scenarios of room price changes, simulate different occupancies for specific dates, prepare the impact on service of a future renovation or size the staff appropriately for specific dates.
Industry: Systems that have manufacturing or assembly components operate with large numbers of production service units that must work in coordination. The volume of data that can be handled in these components is high and, thanks to the telemetry of the different systems, very detailed information can be collected on the status of each one. In this case, the optimization of operations, predictive maintenance or the detection of anomalies in the operation of the complex system is vital. A Digital Twin allows a detailed monitoring of all the Big Data generated by these environments, understanding very well each of its components or service units and establishing a detailed monitoring that allows an optimal operational management, reducing maintenance costs, extending the operation of the machinery or reducing energy costs to keep it active.
Technology to create a Digital Twin
Digital Twins based on Big Data exploitation of environments rely on the correct reading, management and use of data. At Damavis we have a long history of all these points.
Data collection from current systems, whether IoT, services or company databases.
Creation and management of data in Data Lake and Data Warehouse according to the needs and dimensions of the project.
Data analytics and data visualization systems to provide the company with a tool for the correct understanding of the information.
Training of Artificial Intelligence models tailored to each situation and scope of each company.
Complete Digital Twin architecture combining all components to provide a comprehensive service.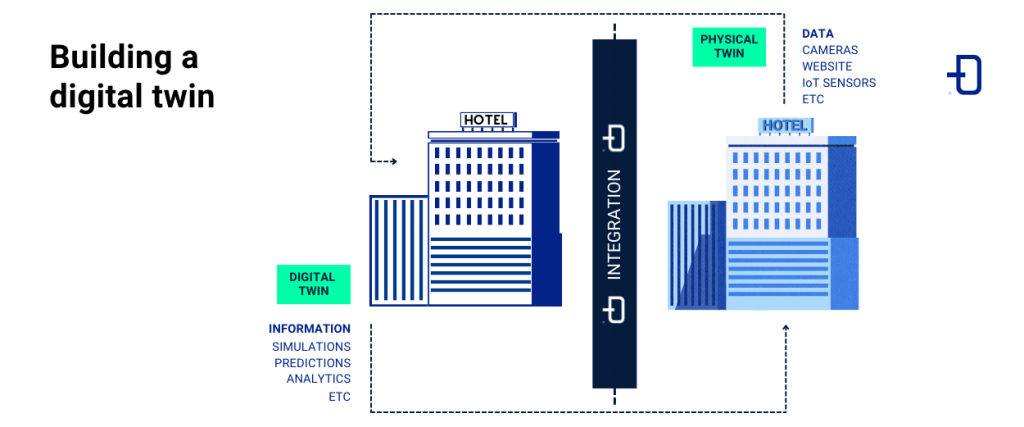 To make all this possible, we have a team of Data Engineers and Data Scientists who create replicas of specific scenarios using the appropriate technologies in each case. Many of them have already been mentioned in this blog: Airflow, Spark, Kafka, SnowFlake, MongoDB, Docker, Scikit-Learn, Databricks, Kubernetes, Deltalake, MLflow, Drools, Superset, among many others.
Conclusion
The creation of a Digital Twin is tremendously useful in companies that manage a lot of data or are managed with multiple indicators.
At Damavis we have extensive experience in creating these environments to help companies extract all the useful information from their data and make the best decisions based on it, allowing them to position themselves against their competition.
It is of vital importance the knowledge of data science and technology for this type of projects to have fast and efficient implementations, avoiding unnecessary delays or loss of time in the planning and creation processes.
Do you need a Digital Twin in your company? Do you have doubts about whether it could apply value in your case? Contact us through the contact form on our website and we will analyze your specific case.
And that's all! If you found this article interesting, we encourage you to visit the Data Science category to see all the related posts and to share it on social networks. See you soon!